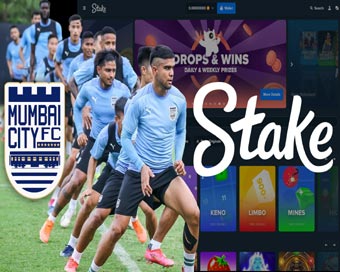 A new partnership has been established between Indian Super League (ISL) club Mumbai City FC and Stake News - a leading affiliate platform from online gambling giants Stake.com.
The move will allow Stake News branding to display on the Mumbai FC football kits and training kits.

Mumbai FC, which became the first club to win the ISL championship and League Winners Shield in 2020/2021, joins Premier League giants Everton on the list of sponsorship agreements with Stake, a company which is expending lots of capital on marketing over the past two years.

The CEO of Mumbai City FC, Kandarp Chandra, said: "We are delighted to partner with Stake News and welcome them to the Mumbai City family. Through recent years, our focus has remained on bringing the fans closer to the club, both physically and digitally. Stake News' support will help us accentuate our intent of engaging with our fans not just online, but on the ground as well in what will be the first time we see fans return to the stadiums after two years. On behalf of Mumbai City, I would like to express my gratitude to Stake News, and we look forward to building a successful relationship with our new principal partner."
How will the partnership impact the perception of gambling in India?
The activity of betting online is immensely popular in India, despite being unregulated nationwide. According to a recent paper by industry analysts ENV Media, illegal betting amounts to more than $200million on any One Day International game in which India participates.

The partnership is another example of the softening stance toward gambling in India. There is a feeling among many observers of the gambling industry that the support for legalisation is prevalent among the wider voting public.

Indeed, summing up their article Sports Betting, India's Favourite Invisible Giant, ENV Media write: "When and if the Central Government of India realises that there are consistent voter bases that would readily support sports betting and online gaming regulations, we might expect changes in the legal scene, probably rather swift ones as well. As things stand, catering for the conservative share of the population requires a careful approach and no outward liberalisation of the betting market."
Is gambling legalisation on the horizon?

There are signs that regional governments are beginning to see the financial and societal benefits of regulation. Recent Supreme Court rulings have deemed any curbing of skill-based gambling games such as Rummy unconstitutional, while some states are embracing a new approach to gambling.

Indeed, Chief Minister of Meghalaya recently resisted calls to repeal the Regulation of Gaming Act 2021, which allows tourists to bet online and in land-based casinos. Claiming it would cost the state around Rs 10 crore in revenue loss, Conrad K Sangma was reacting to calls from conservative religious groups in India, which remain unhappy with the decision.

The status of gambling in Meghalaya is a perfect microcosm of the current situation in India as a whole. There is a desire to improve taxation income, create job security, and remove the influence of dangerous underground betting rings from the national scene, but doing so without upsetting profoundly traditional and religious elements of the voting public.

Experts argue that by creating a nationwide regulatory body, you would create a race to the top - with online bookmakers prioritising customer safety and experience. That would mean more betting sites offering fast withdrawals for players, better responsible gambling capabilities across the board, and industry-standard guidelines keeping player identity safe and secure.

It's a tough balancing act, but one national and regional politicians needs to strike to find a solution.

Tweet